One of Japan's 100 famous mountains, Mt Hiuchi may be the most stunning mountain you will climb in Japan. Until you start ascending to the summit the climb is not strenuous if you are of moderate fitness. You will hiking through the covered forest and then the open plateau area until you climb the steps up-to the peak of Mt Hiuchi.
You can complete this route in one day. We would recommend you start early around 7AM. If you are reasonably fit you can expect to reach the top in 4.5hrs. Descending will take a lot less. If time allows you should spend the night in the mountain hut or camp ground and then climb to the peak early the next morning. You will need to book the hut if you wish to stay there.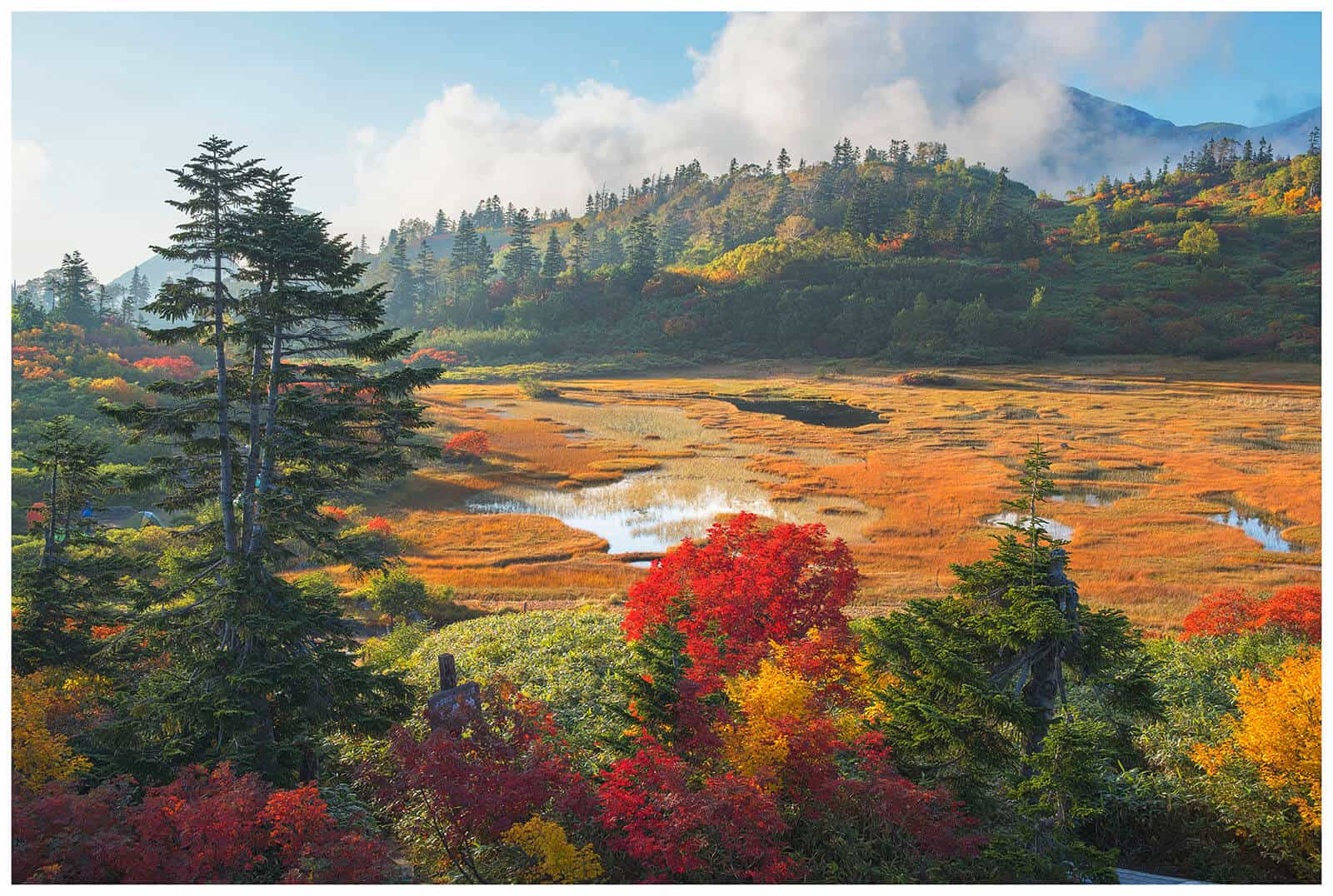 Mt Myoko is an exciting mountain to climb. It can also be tough if you don't properly pace yourself. The course is steep from beginning to end with not many areas allowing you to take it easy. The climb to the summit is the most exciting part of the climb. You will ascend via chains which are hammered into the rocks. Don't be put off by this as it's easier than it may sound and the climb is traversed by school children and elderly climbers each year.
You will need to climb via chains and take several narrow paths which have breathtaking views. Once you get to the top don't just stop at the first peak, you can walk across to the second peak which is more open and is great place to have your lunch and a rest. From the summit you can see the entire region, all the way to the Sea of Japan. On a clear day you can also see Mt Fuji as you climb to the top.
Please note that you can also climb from and return to Akakura Kanko Resort. Please check the map below for the path that heads in that direction.
Mt Myoko and Mt Hiuchi are connected at various points allowing you to climb both mountains. This is two day climb and you will need to decide if you will stay at Kurosawa hut or Koya Pond hut. In either case you should book the huts in advance. You can also camp at each hut which doesn't need advance booking. Usually you would stop at Kurosawa hut but if you have a good pace you can also decide to finish at Koya Pond hut on your first day.
Your entrance and exit point will be different but you could also return along the same route on your way down from Mt Hiuchi, back to Tsubame Onsen. In our course below you will start at Tsubame Onsen and exit at Sasagamine. Of course you could do this in reverse. In this case you would most likely stay at Koya pond hut and then descend via Mt Myoko on the second day.