There are two services to choose from for airport shuttle transfers.
This airport shuttle service started in the 2016-17 season. We have worked closely with MKK Tours who operate this service so we have great knowledge of their services and can help assist you in booking tickets for this shuttle.

For the 2019 season they will be covering all the major airports, Narita, Haneda, Niigata and Toyama. The advantage of this service is that the bus is direct to and from Myoko Kogen with no transfer needed. They also offer a free transfer service to Madarao, Tangram and Nozawa so if you are planning on staying there you can take advantage of this free transfer service.
Leaves Narita at 10:00 arrives Myoko at 15:30
Leaves Haneda at 09:20 arrives Myoko at 14:30
Leaves Niigata at 13:00 arrives Myoko at 16:35
Leaves Toyama at 17:00 arrives Myoko at 20:00
Leaves Myoko at 09:20 arrives Narita at 15:00
Leaves Myoko at 09:30 arrives Haneda at 14:30
Leaves Myoko at 07:15 arrives Niigata at 10:50
Leaves Myoko at 12:00 arrives Toyama at 15:00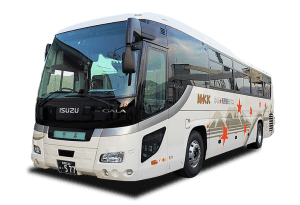 Nagano Snow Shuttle have been transferring people to and from Narita and Haneda for many years and are the first dedicated airport shuttle service in the area. They are an established service and offer up to 4 buses a day which can very convenient depending on when you land.

They also have daily shuttles to and from Hakuba and Nozawa Onsen.

You will have to change in Nagano for the Myoko bound shuttle.
Leaves Narita at 09:15 arrives Myoko at 15:15
Leaves Narita at 12:00 arrives Myoko at 18:00
Leaves Narita at 15:00 arrives Myoko at 21:00
Leaves Narita at 20:30 arrives Myoko at 01:45
Leaves Myoko at 07:45 arrives Narita at 14:00
Leaves Myoko at 10:15 arrives Narita at 16:45
Leaves Myoko at 12:45 arrives Haneda at 18:45
Leaves Myoko at 15:15 arrives Narita at 22:00
Leaves Haneda at 07:30 arrives Myoko at 13:00
The bus also makes stops at Tangram and Madarao