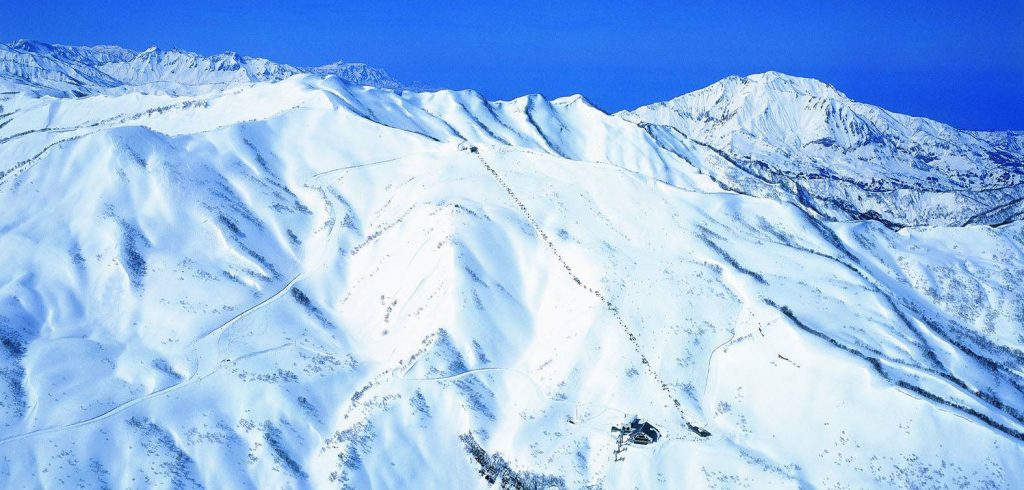 Arai Ski resort was first opened in 1993 by the son of Sony co-founder Akio Morita. It was forced to close in 2006 due to financial troubles, and for the past 10 years it has been empty and unused. All of that will change this season when it reopens its doors as Arai Lotte Ski Resort. Hotel Lotte CEO Kim Jung-hwan stated that he plans for the resort to complete with Asia's best resorts.
The resort will offer world class standard hotels with over 200 rooms available, as well as extensive spa and onsen facilities. There will also be numerous restaurants, stores an international snow school as well as other activities available. With Lotte aiming to make this one of Asias best resorts this will be a very exciting place to head to this season. All the lifts and buildings currently being renovated and activities are being planned for all seasons.
The mountain gets a large amount of snow which will make this a great place for more advanced skiers and boarder and for those who love fresh powder.
REGULAR SEASON (December 16, 2017 – March 18, 2018)
| Pass | Adult | 13-15 | 6-12 |
| --- | --- | --- | --- |
| Half Day | ¥4,400 | ¥3,800 | ¥2,800 |
| 1 Day | ¥6,000 | ¥4,800 | ¥3,800 |
| 2 Day | ¥10,300 | ¥8,000: | ¥6,400 |
| 3 Day | ¥13,900 | ¥10,700 | ¥9,200 |
| 4 Day | ¥17,800 | ¥13,900 | ¥11,900 |
| 5 Day | ¥21,700 | ¥16,900 | ¥14,600 |
| 6 Day | ¥25,700 | ¥20,200 | ¥17,600 |
| 7 Day | ¥29,700 | ¥23,100 | ¥20,300 |
| Night Skiing | ¥1,800 | ¥1,800 | ¥1,500 |
SPRING SEASON (March 18, 2018 – May 6, 2018)
| Pass | Adult | 13-15 | 6-12 |
| --- | --- | --- | --- |
| 1 Day | ¥3,800 | ¥3,100 | ¥2,600 |
| 2 Day | ¥5,600 | ¥4,900: | ¥3,800 |
| 3 Day | ¥8,100 | ¥6,900 | ¥5,400 |
| 4 Day | ¥10,500 | ¥8,900 | ¥6,800 |
| 5 Day | ¥12,900 | ¥10,900 | ¥8,300 |
| 6 Day | ¥15,300 | ¥13,000 | ¥9,600 |
| 7 Day | ¥17,700 | ¥14,900 | ¥11,000 |
Open – 8:30
Close – 20:00
0255-75-1100
Skill Levels

Beginner
Intermediate
Expert
Half pipe Terrain Park Back Country Ski School
Rental Childrens Facilities Everyday Night Skiing
Elevation
Base elevation: 329 meters
Summit elevation: 1,280 meters
Vertical drop: 951 meters
Number of courses
11
Longest run
5200 meters
Lifts
Gondola: 1 Quad lifts: 2
Pair lifts: 2
Gradient
-
Night skiing
From 16:30
Foreign language support
Available
Terrain
Beginner 25%, Intermediate 45%,
Advanced 30%