About Tsubame Onsen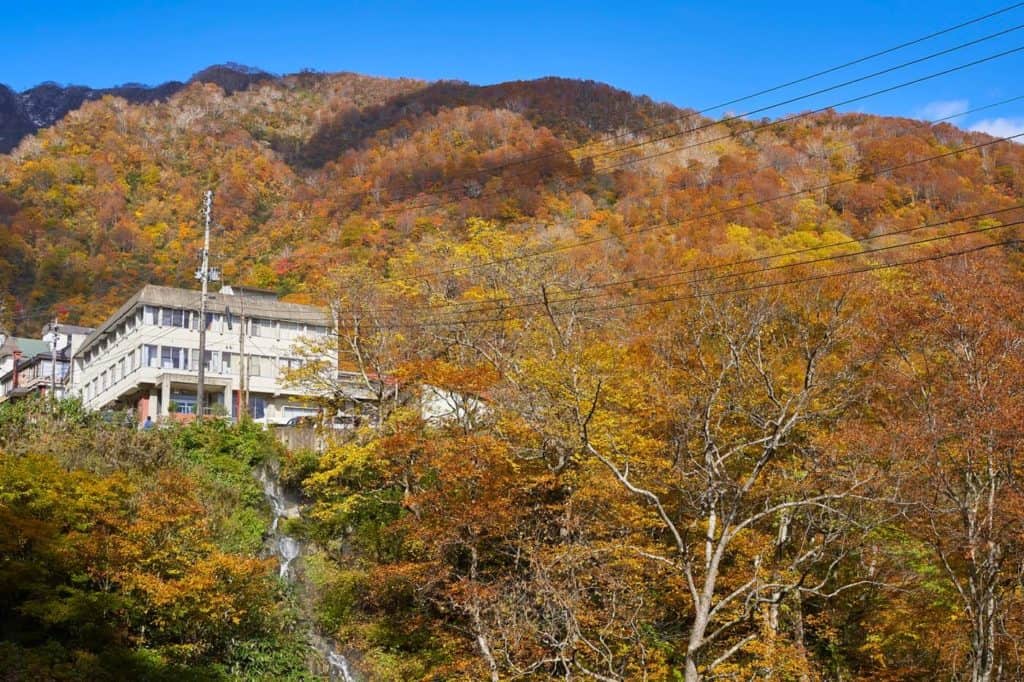 Set on a spectacular cliff-side next to a fast-flowing river Tsubame Onsen is a great destination for those wishing to experience something off the beaten track. The hot spring boasts white mineral rich waters which are supposed to have great healing properties especially for rheumatism, neuralgia, and various skin ailments. The atmosphere here is beautiful. The secluded onsens and the peace that comes with being in the middle of nowhere with nothing around you is so relaxing.
The onsen are reachable from around June and stay open until the heavy snow starts to fall around December time.
Ougon no Yu
Ougon no Yu, which has 2 onsen pools separated by a rock wall can be reached by walking up the steps found immediately on the left at the top of the village area after you pass the last building. Take the paved path straight up the hill until you reach the onsen on the right. There is a small changing room for each onsen and they are separated by gender. The male bath is on your left as you look at them and the female bath to the right.
This onsen is free of charge to enter.
Ougon no Yu actually opens early in March and you can enter whilst there is still snow surrounding the baths. For more info on the spring opening of Ougon no Yu please check out our special page here.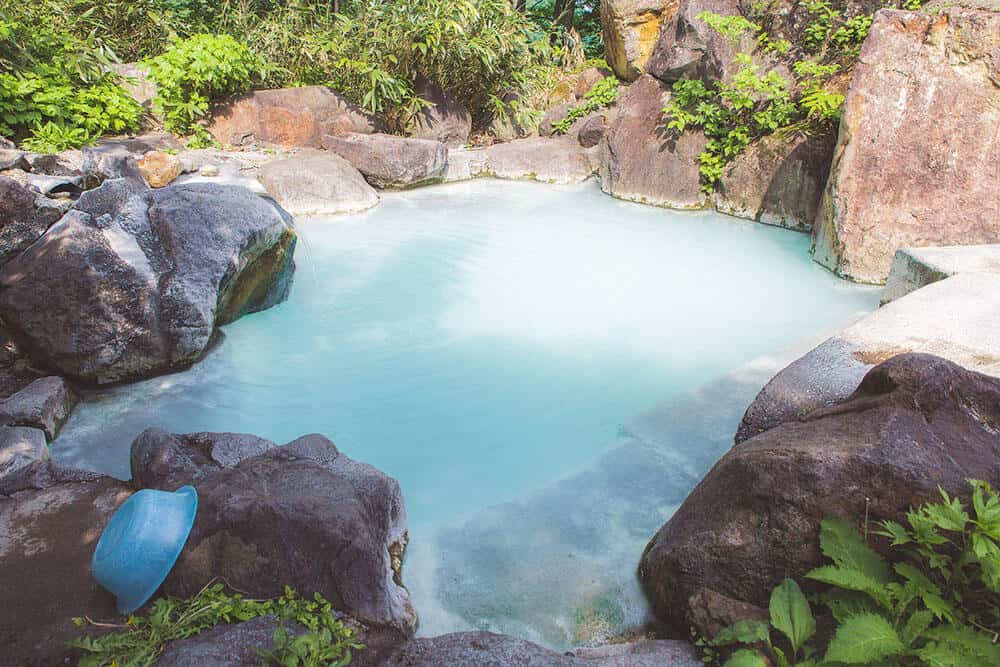 Kawara no Yu
Kawara no Yu, is a mixed gender outdoor bath. To reach this bath you should continue straight after passing the hotels and head through the forest for about ten minutes. You will then cross a small suspension bridge. Immediately after crossing turn left and dip down under the bridge. Continue along the narrow path until you reach the onsen. You will need to take your own towels. There is a small changing hut available next to the bath.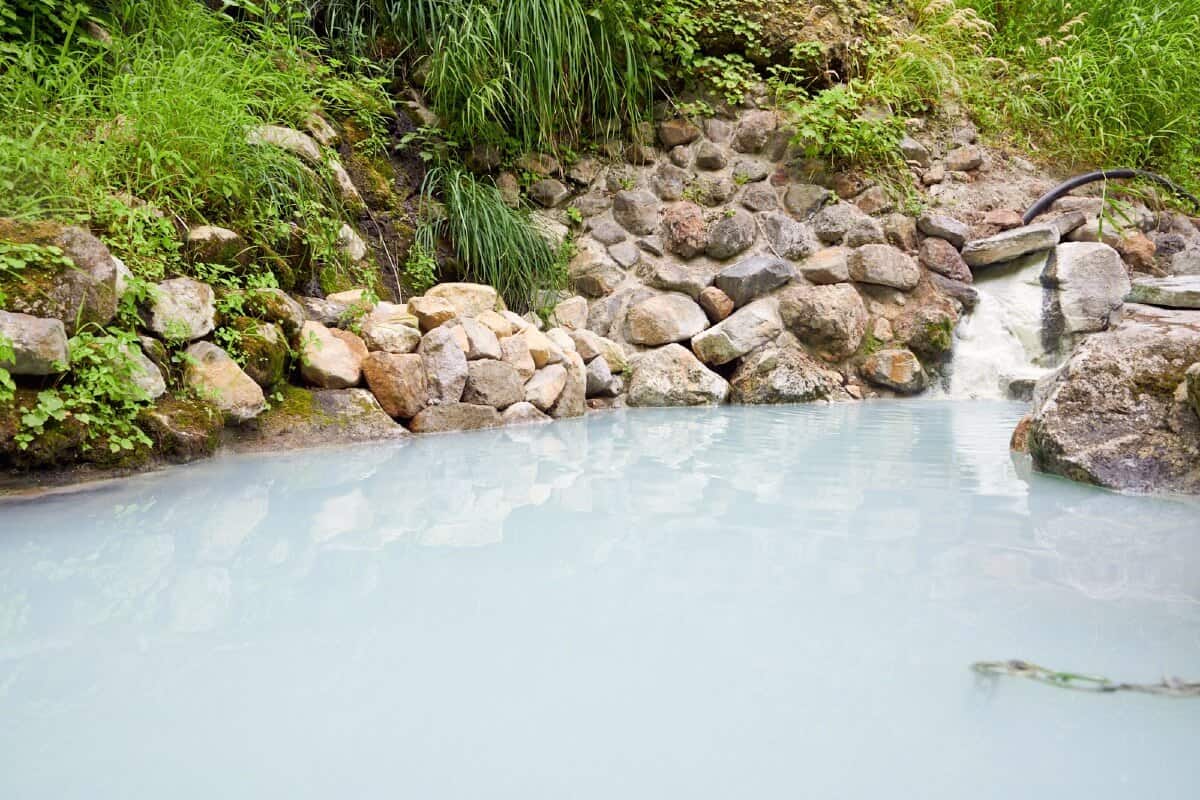 You can reach Tsubame Onsen by bus.
| Bus Stop | | | | | | | |
| --- | --- | --- | --- | --- | --- | --- | --- |
| Sekiyama Station | *6:14 | 07:43 | 09:03 | 10:40 | 13:34 | 15:30 | 17:22 |
| Sekiyama Shrine | *6:17 | 07:46 | 09:06 | 10:46 | 13:37 | 15:36 | 17:25 |
| Market "TOMATO" | – | – | – | – | 13:42 | – | – |
| Daidohara Flower | – | 07:57 | 09:17 | 10:57 | 13:48 | 15:47 | 17:36 |
| Seki Onsen | *6:29 | 08:09 | 09:29 | 11:09 | 14:00 | 15:59 | 17:48 |
| Tsubame Onsen | *6:34 | 08:14 | 09:34 | 11:14 | 14:05 | 16:04 | 17:53 |
| Bus Stop | | | | | | | |
| --- | --- | --- | --- | --- | --- | --- | --- |
| Tsubame Onsen | *6:37 | 08:15 | 09:40 | 11:35 | 14:30 | 16:20 | 18:01 |
| Seki Onsen | *6:42 | 08:20 | 09:45 | 11:40 | 14:35 | 16:25 | 18:06 |
| Daidohara Flower | *6:54 | 08:32 | 09:57 | 11:52 | 14:47 | 16:37 | 18:18 |
| Market "TOMATO" | – | – | – | 11:54 | – | – | – |
| Sekiyama Shrine | *7:05 | 08:43 | 10:08 | 12:03 | 14:58 | 16:48 | 18:29 |
| Sekiyama Station | *7:08 | 08:46 | 10:14 | 12:06 | 15:04 | 16:51 | 18:32 |
* No bus service on Saturdays, Sundays and School Holidays