Cherry Blossom Festival April 1st – 15th
As Winter draws to a close and Spring approaches, with the warming weather the cherry trees start to come to life.
From the 1st of April to the 15th the 4,000 cherry blossoms will be in full bloom in Takada park. Takada park is one the most famous places in Japan to experience the blossoms at night. In the Evening the park is lit up and the cherry blossoms look even more spectacular.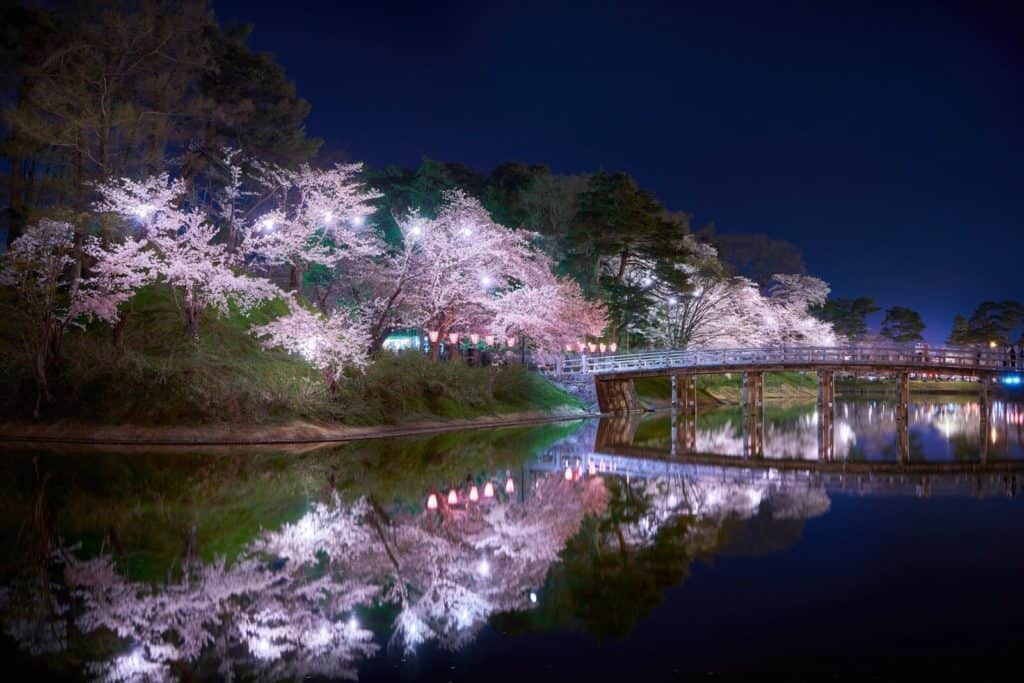 The park area is distinctly split in half by the main road that runs through it. On weekends this road is closed off during the festival. On one side of the road you will find Takada Castle and the moat that runs around it. Here the castle and cherry blossoms reflect spectacularly in the moats waters. On the other side of the park you will find the Sakura Road. An area which is lit up at night with pink and blue lights. The road of cherry trees over-hang the whole path so there is a ceiling of pink blossoms all above you as you stroll along this spectacular path.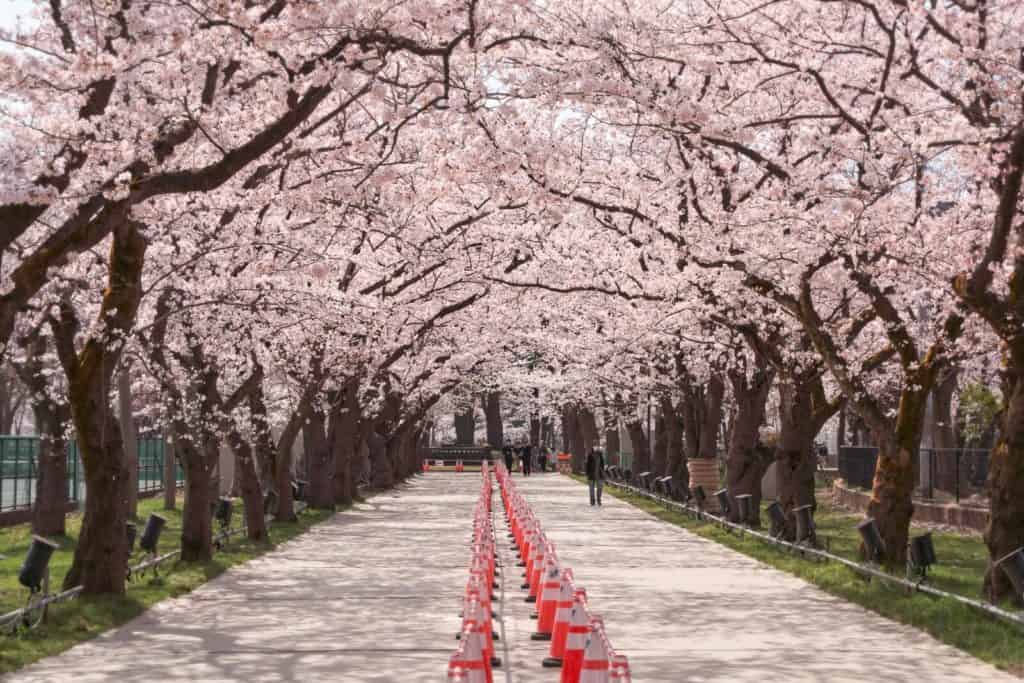 During the 2 weeks of the cherry blossom festival the area is very busy, especially in the evening. The best way to get to the park is either by train to Takada station then walk, or take the special bus below from Myoko to Takada Park.
Click here for train times to Joetsu
SPECIAL BUS SERVICE
This service runs only for the 2 weeks of the festival, from April 1st – 15th.
This service allows you roughly 1hr 20min to view the blossoms before returning.
Please make note of the bus departure point from Takada Park.
Adult – 2,000 Yen
Child – 1,000 Yen (Child is under 12)
You need to book the shuttle in advance. You can do this by purchasing a ticket from the front desk of your hotel or the tourist office.
| BUS STOP | TIME |
| --- | --- |
| Myoko Kogen Tourist Office | 18:00 |
| Takahashi Ryokan | 18:04 |
| Ikenotaira Landmark Cafe | 18:12 |
| Akakura Kanko Resort | 18:15 |
| Akakura Onsen Tourist Office | 18:17 |
| VIEWING TIME | 1hr 20min |
| Akakura | 21:40 |
| Myoko Kogen | 22:00 |
| BUS STOP | TIME |
| --- | --- |
| Tsubame Onsen | 18:20 |
| Seki Onsen Bus Stop | 18:25 |
| Kyukamura Myoko | 18:27 |
| VIEWING TIME | 1hr 20min |
| Kyukamura Myoko | 21:50 |
| Tsubame Onsen | 22:00 |