Myoko is home to many hotsprings. There are public onsen and onsen that are part of a hotel. The onsen in hotels can be used even if you are not a guest of the hotel. The amazing outdoor onsen at Tsubame are probably the most famous in Myoko and they are free to use. Check out our Tsubame onsen page here.
Myoko has seven different onsen areas which all have their source deep in Mt Myoko. Although the areas are all served from the same mountain the waters in each area are very different. This is what makes Myoko such a great place for experiencing onsens, every area will offer you a different type of bath.
There are five different kinds of onsen in Myoko. The onsen are defined by their mineral contents and appearance. Each type of onsen offers differing but great health benefits for the skin and body.
There are three different colours of water that emerge from the Myoko hot springs. Tsubame area has a beautiful milky white colour. Seki has a reddish coloured water, Ikenotaira has a black coloured water which is the colour of the minerals floating in the water. Akakura and other areas have a clear water.
ONSEN MAP OF MYOKO
Below is a map showing the seven different onsen areas in Myoko. The public baths are also displayed with a red dot and the onsen name. In each area there are many hotels with onsen baths you can use. Below, each area and the hotels are listed with their opening times and price.
Public Onsen
Name
Open
大 (Adult)
小 (Child)
Info
Taki no yu
Akakura
9:00~17:00
大 500円
小 350円
Outdoor only
Closed in winter
Ooyu
Myoko Onsen
13:00~20:00
closed Monday
大 250円
小 100円
Fureai Kaikan
Ikenotaira
8:30~21:00
closed Thursday
大450円
小 250円
Landmark Cafe
Ikenotaira
9:00~23:00
864円
Per Hour
Outdoor bath
Naena no yu
Suginosawa
10:00~20:00
closed Wednesday
大450円
小 300円
TSUBAME ONSEN
Set on a spectacular cliff-side the outdoor baths at Tsubame Onsen are a great destination for those who want to get off the beaten path. The small hotel area and surrounding mountains and forest offer a pleasant atmosphere. The outdoor onsen close during the heavy snows of winter, but the onsen in the hotels are open all year round. The hot spring water is milky white, and offers great benefits for the skin.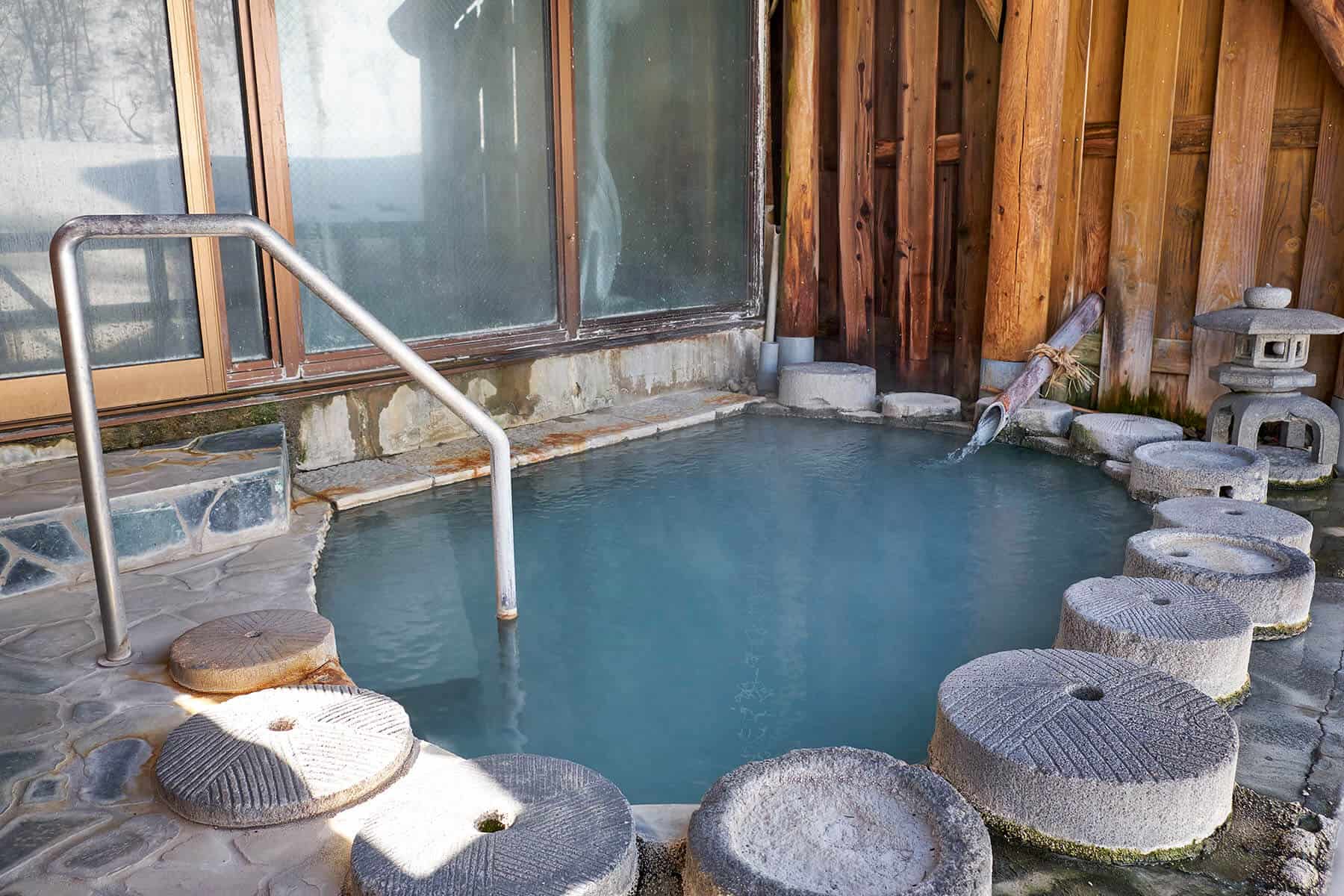 Hotel
Open
大(adult)
小(child)
Info
Hotel Hanabun
11:00~19:00
大 400円
小 200円
Female
outdoor bath
Hotel Iwatoya
12:00~21:00
大700円
小 500円
Outdoor bath
SEKI ONSEN
Seki Onsen opened in 1729 and is the oldest of all hot springs in Myoko. The traditional village area still carries the atmosphere of past times. The area is popular in winter as the small Seki Onsen ski resort is famous for its deep powder snows. The reddish onsen water gets its colour from the high iron content in the water. The iron has a heating effect on the body which is particularly pleasant in winter months. The outdoor baths of the hotels are closed in winter.
Hotel
Open
大(adult)
小(child)
Info
Asahiya
9:00~18:00
大 500円
小 300円
Outdoor bath
Komatsuya
10:00~20:00
大500円
小 400円
Tomiya
8:00~21:00
大500円
小 300円
Nakamuraya
10:00~16:00
大500円
小 200円
Outdoor bath
AKAKURA ONSEN
Akakura Onsen is the largest onsen area in Myoko and opened in 1816. The area becomes hugely popular in the winter months which is great time for tourists to experience the amazing onsen in the area. With many different onsen to choose from you could try a different bath each day. You can see the floating minerals in the clear water. This is called Yubana in Japanese.
Hotel
Open
大(adult)
小(child)
Info
Daimaru
12:00~21:00
大 800円
小 500円
Hotel Taiko
11:30~21:00
大800円
小 500円
Outdoor bath
Matsuya Ryokan
13:00~21:00
大500円
小 300円
Wakui Hotel
15:00~20:00
大500円
小 300円
Akakura Hotel
9:00~21:00
大 1000円
小 500円
Outdoor bath
Akakurasou
15:00~20:00
大500円
小 300円
Kogakuro
14:00~20:00
大800円
小 500円
Outdoor bath
Taizan
13:00~21:00
大600円
小 400円
Outdoor bath
closed in winter
Oyado Furuya
15:00~18:00
大 600円
小 300円
Outdoor bath
Park Hotel
15:00~20:00
大 500円
小 300円
Akakura Central
9:00~20:00
大 500円
小 300円
Seifuso
12:00~17:00
大 500円
小 300円
Outdoor bath
Private
SHIN AKAKURA
Shin-Akakura Onsen uses the same hot water source as Akakura Onsen. The mineral rich waters are great for the skin and contain other healing properties.
Hotel
Open
大(adult)
小(child)
Info
Okayamakan
14:00~21:00
大 500円
小 400円
Outdoor bath
Akakura Yours Inn
reservation
required
大450円
MYOKO ONSEN
Myoko Onsen is just 15 minutes on foot or 3 minutes by car from Myokokogen Station. This hot spring area shares its source with Ikenotaira Onsen and provides a soft and gentle water that is great for the skin.
Hotel
Open
大(adult)
小(child)
Info
Kofukan
12:00~20:00
大 700円
小 500円
Outdoor bath
Closed in winter
Takahashi Ryokan
15:00~19:00
大700円
小 350円
IKENOTAIRA ONSEN
Ikenotaira shares its source with Myoko onsen area. Landmarks onsen have a black coloured water. This comes from the heavy mineral content that floats in the clear waters. Landmark is open 24hrs during the winter season and also offers an internet cafe area, pool tables, table tennis and other amusements. You pay per hour for free use of all the facilities. The brand new Lime Resort Myoko have also opened their beautiful new baths to the public. They have a variety of different indoor baths as well as an outdoor bath. Fureai Kaikan is run by Myoko City as a public bath and is located down the hill from Landmark and the ski resort.
Hotel
Open
大(adult)
小(child)
Info
Landmark
Onsen Cafe
9:00~22:00
864円
Per Hour
Outdoor bath
Lime Resort Myoko
15:00~20:00
大1000円
小 500円
Outdoor bath
towel rental available
Fureai Kaikan
8:30~21:00
Closed Thursday
大450円
小 250円
SUGINOSAWA ONSEN
Suginosawa is the newest onsen area in Myoko. The clear mineral rich waters offer great benefits to the skin. The onsen in Suginosawa is a public bath called Naena no yu which is available to all. It is closed on Wednesday but during the winter season it is open everyday.
Naena no yu
10:00~20:00
closed Wednesday
大450円
小 300円