Illumination
Myoko Happiness Illumination
July 1st – November 15th
The Apa Resort Myoko Happiness Illumination is the largest outdoor light display in the world. It covers such a large area with different displays that you should allow yourself about 1.5hrs to walk through the area. The display changes each year so there is always something new for a returning visitor to see. There are 9 different sections for you to explore. Upon entering you will start by walking up hill through a 300m light tunnel with different color lights surrounding you the whole way. After the tunnel, you will head to the dragon area which is a beautiful woodland area of white lights. You will then come upon the pond where every 20 minutes there is a spectacular water projection and laser display. Huge waves of water are sprayed up and a cinematic light show is projected on to the water. At the same time mist and clouds are created for the laser show. This show is truly spectacular.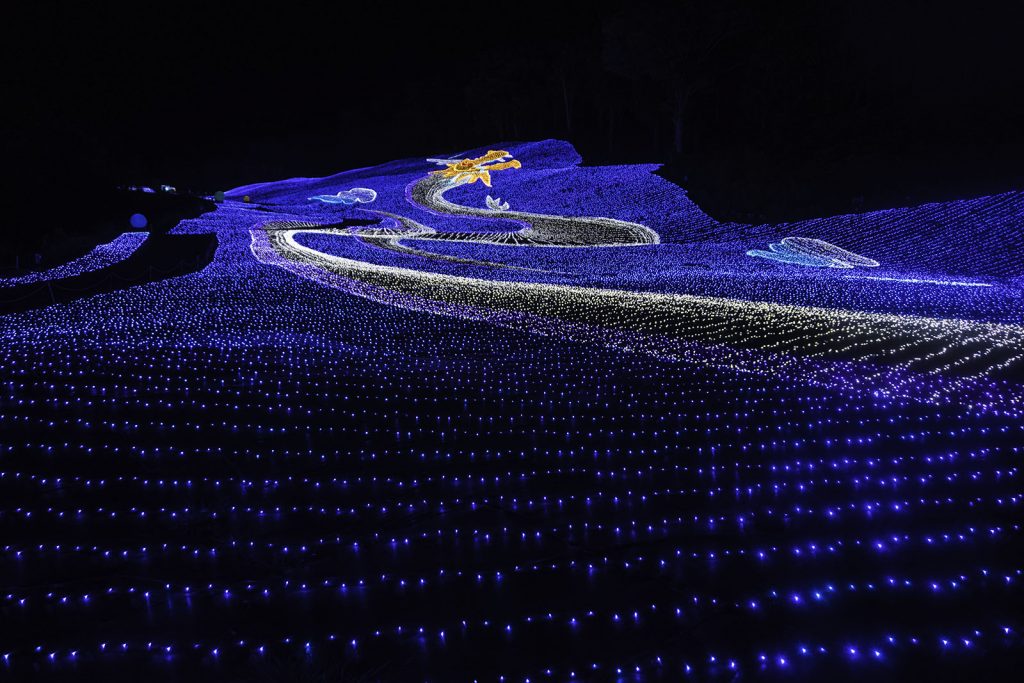 After the show, you will walk back through the woods and pass the lovers bell. This is a great photo spot for couples. Next you will head to the final area. At the top of the hill is a gateway. If you walk through the gateway you will trigger a sound and effect the large light display on the hillside. The final area is breath taking. The whole hillside is covered in lights with two dragons snaking along the side of the hill. Every 6 minutes there is a small musical performance where the dragons and lights change in time to the music.
This is a must-see attraction, there is nothing else like this anywhere in the world and it is truly breath-taking to experience.
A few points to note is that the use of tripods for taking pictures is strictly limited to the flat areas. The area is also difficult to navigate for wheel chairs as the hill at the start and end is quite steep and the paths narrow in places.
Free Bus Service
There is a free bus service that will take you from Sekiyama train station to Apa Resort.
Sekiyama station – Apa Resort: 18:15
Apa Resort – Sekiyama station: 20:50